Credits
Software today doesn't develop in a vacuum. All of what we develop we can attribute parts both large and small to many other developers who have done some of the same things that we need to accomplish and have been kind enough to share their work.
This app is no exception, and I would like to give thanks and credit to many of the places where I found significant bits and pieces.
---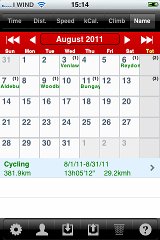 First, a special thanks to a user who contacted me a few months back with some simple requests. The requests grew into a collaboration which has modeled much of the changes that you are seeing in this release and future releases. Alan Westwood, an avid cyclist from the UK, who rides more miles in a week than I do in a month, is also very serious about his training data. His knowledge and understanding of training data as well as the various training apps and web sites is unsurpassable. The look and feel of the calendar above and a lot of the new functionality is thanks to Alan's dedication.
Thank you Alan.
---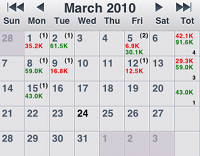 The main calendar view was derived almost wholly from software developed by Keith Lazuka of the Polypeptides (thepolypeptides.com) and a part by Scott Stevenson. They have done an excellent job and were very generous in offering their code to iPhone Developers. Thanks Keith and Scott.
---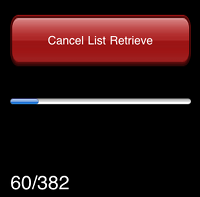 Download of activities from Garmin Connect are done with the help of the excellent ASIHTTPRequest library by Ben Copsey of All-Seeing Interactive. Thank you Ben.