FTP
Transferring Activities using FTP
You can transfer your Garmin, Polar or SportTracks activity files to your iPhone training log via FTP using any of the popular FTP clients such as FileZilla, Cyberduck, CoreFTP, or any other FTP client. Here's how to set up some of the more popular FTP clients.
FTP Notes
There are a few things you should know about using FTP software to transfer activities to the LogMyTraining.
Port 2100
Single Connection
can drag and drop whole directories
copy over, but only necessary to copy most recent
Garmin, SportTracks multiple activities in same file
Some FTP programs
FileZilla
CoreFTP
Cyberduck
Finding the data
Garmin Training Center (Windows)
LogMyTraining can use data found in Garmin Training Center History .tcx files. In Microsoft Windows, they normally can be found under:
C:\Documents and Settings\yourname\Application Data\GARMIN\Devices
Under the devices folder there will be a folder for each different Garmin device you have. You can copy/drag the entire device folder to the iPhone or you can choose just the most recent activities found under the device folder to copy to the iPhone. Below is an example of copying everything from a single device (in this case it was a Forerunner F50) to the iPhone.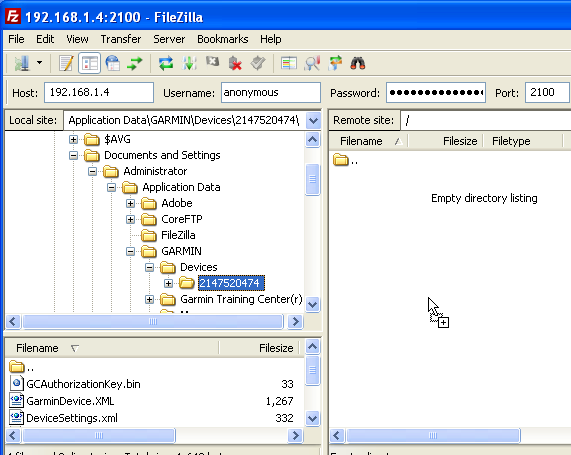 Garmin Training Center (Mac)
On Mac OS X, the Garmin Training Center (GTC) program doesn't keep it's data in ".tcx" files, but you can use the GTC to export activities as a tcx History file.
You can chose the entire "History" folder under "My Activities" which will create a single tcx file with all your Activities, but transfer to the iPhone can be slow if the file is very large. Another possibility is to create smaller folders, for example, one for each month, and drag only those month's activities in those folders. Then you can export one folder at a time. In the below example, I am exporting a folder I created which contains only activities from June 2008.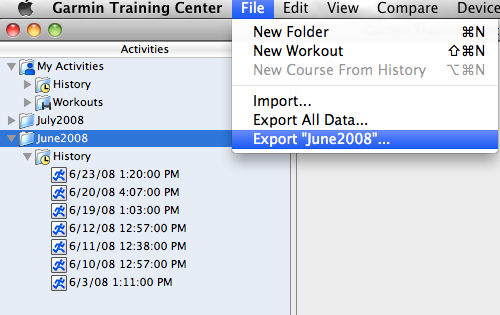 Then I drag the exported tcx (June2008.tcx) file to Cyberduck, which is connected to the iPhone.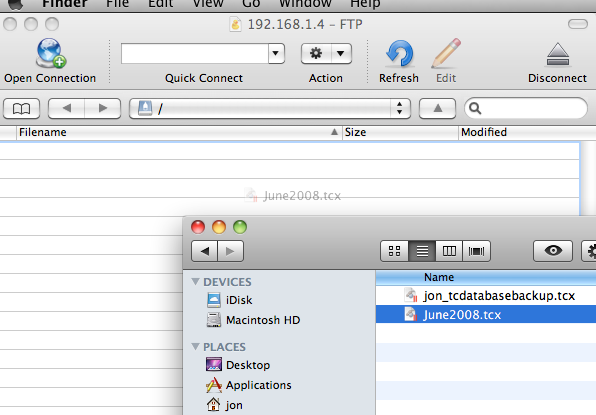 Polar
LogMyTraining accepts data in the .hrm/.pdd format as created by Polar ProTrainer software and older versions of PolarPrecision Software. It is important that you have both the .hrm files and the .pdd files. If you have not customized the Polar ProTrainer or PolarPrecision program, you will find you HRM files under:
c:\Program Files\Polar\Polar ProTrainer\yourname\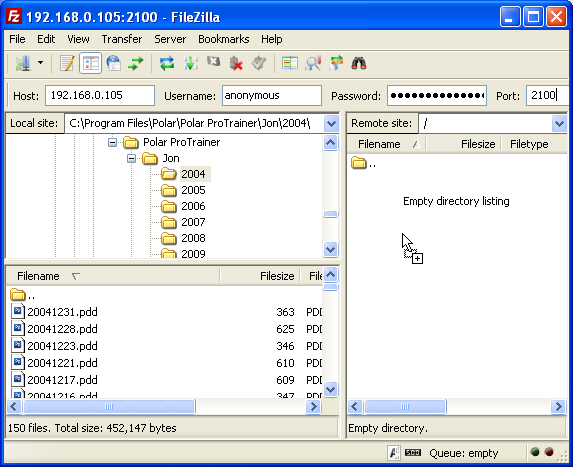 SportTracks
LogMyTraining is capable of using data from the excellent SportTracks program, which in turn can import data from various different HRM devices. In order to use SportTracks data you must create a ".fitlog" file.
Note: As SportTracks allows you to customize Activity types, you might want to add the names of sports you have used in SportTracks to your user profile (Under Settings you can either add new sports or add aliases to sports.) This should be done before loading data from SportTracks, but you can always reload data again without any problems.