Garmin Connect Configuration
In order to be able to download your activities from the Garmin Connect, the app needs to know your Garmin Connect username and password. This information is only stored in this app on your device. It is not saved or transmitted anywhere else.
Enter your username and password, make sure you tap the "Done" button to dismiss the keyboard.
Note for iPad users: Make sure the keyboard is dismissed with the "Done" button and not the small keyboard button on the lower right-hand corner.
Note: Make sure to use the proper case when entering username and password; e.g. if your password is "PassWord", then write "PassWord" and not "password".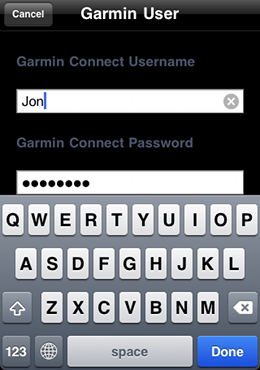 Dismiss keyboard
Then tap the "Save" button in the upper right-hand corner.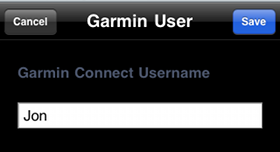 Save
Tap the "Test Connection" button to check to see that the app can properly connect using your username and password.
A login will be attempted using the supplied username and password. If it works out you will see the following type of screen.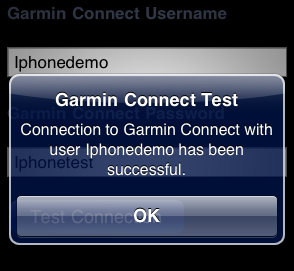 Garmin Connect Test OK
If you are not able to connect, verify that you can connect to the Garmin Connect website using this username and password. Also check with out website to see if the app is having problems with Garmin Connect (see note below).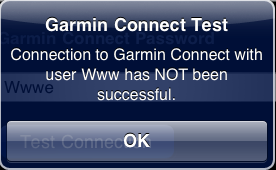 Garmin Connect Test NOT OK
Important Note
If you have a Garmin HRM and are storing your activities on the Garmin Connect website then it is possbile to add them to your training log.
Important Note: This feature is dependent upon the functionality of the Garmin Connect website. At the time of release, LogMyTraining is compatible with Garmin. We will do our best to make sure the app is updated in the case of incompatibilities. If you are having problems downloading using the Garmin Connect feature check our website for additional information and don't hesitate to contact us at support@logmytraining.info if you are still having problems.